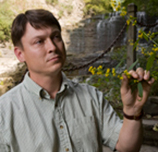 House Fellow
Director, Natural Areas
Cornell University's Botanical Gardens, Arboretum, and Natural Areas
The garden's natural areas program stewards 3,600 acres of biologically diverse nature preserves, representing nearly all the natural community types and rarest plant habitats in the central Finger Lakes region. These holdings include about 1/3 of campus and several beloved Cornell landscapes including Cascadilla and Fall Creek Gorges, Beebe Lake, Fall Creek Valley, and the Mundy Wildflower Garden, and off-campus jewels such as McLean Bogs, Ringwood Ponds, and Edwards Lake Cliffs. Todd leads the organization's efforts to conserve native biodiversity and maintain the natural quality of these outdoor classrooms, to facilitate access and compatible recreational use, to support educational and research uses, and to preserve and steward these unique lands for future generations.
Todd also oversees the University's Deer Management Programs, chairs the Cornell Gorge Safety Committee, and sits on Cornell's Wellness Advisory Committee, the Ithaca Gorge Safety Taskforce, the Dryden Rail Trail Taskforce, and the Center for Plant Conservation.
Todd has a B.A. in biology from North Central College and an M.S. in Plant Biology from Southern Illinois University in Carbondale, and came to Cornell Botanic Gardens in 2008 after 15 years of preserving and managing state and privately owned natural areas across northern Illinois. He lives nearby in Ellis Hollow with his wife Tonya, daughter Shannon, and son Colby.