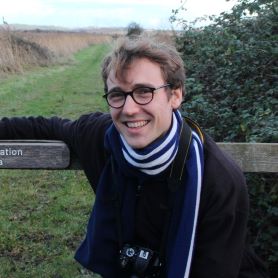 Graduate Resident Fellow
Department of Natural Resources and the Environment
Charlie Tebbutt is studying for a PhD in the Department of Natural Resources and the Environment. His work examines how local communities in the Colombian Amazon use sustainable agroforestry to conserve and adapt to the changing natural environment. His academic experience in both the Humanities and the Sciences drives him to find bridges between the two, and to reaffirm our embeddedness as humans within the natural world. 
Charlie hails from the UK, where he completed a BA in English Language and Literature at King's College London, and an MSc in Biodiversity, Conservation and Management at the University of Oxford, where he worked as a Researcher and a Welfare Dean. He has also studied abroad at the University of Sydney, Australia, and is always keen to advise students considering embarking on similarly life-changing experiences. 
Beyond the Ag Quad, Charlie can be found jogging up and down Ithaca's hills under sunshine or snowfall. He is a member of Cornell's Birding Club, and likes to keep track of the seasons by the changing birdsongs throughout the year. Around the residence, Charlie is happy to exchange tips on English- and Spanish-language literature, music-making, and vegetarian living. He is excited to be a part of the community at Flora Rose House!