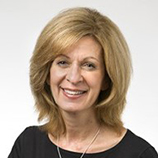 House Fellow
President, The Opperman Consulting Group
Mary George Opperman is president of The Opperman Consulting Group, which provides organizational assessments, individual coaching and advising, and a variety of other HR services and assistance.  Mary serves as a thought partner to leaders as they plan and execute their priorities. She served for over 25 years as Vice President and Chief Human Resources Officer for Cornell University, which employs approximately eighteen thousand staff and faculty on campuses in Ithaca, Geneva (NY), New York City and Qatar, as well as dozens of research facilities across the country and beyond.
Mary is passionate about creating inclusive workplaces in which all employees are supported in bringing their best selves to the advancement of excellence. Her portfolio at Cornell included oversight of the Division of Human Resources, the Office of Inclusion and Belonging, Institutional Equity and Title IX Compliance, and the Center for Regional Economic Advancement. Mary pursued a culture of belonging at Cornell that values and supports employees as whole persons, and in turn, is mindful of the connection between the workplace, the individual, and the community in which we live.
Mary is an active supporter of her community and has served on numerous boards of local and national organizations. She is currently serving on the boards of the Legacy Foundation of Tompkins County, the Sciencenter, the National Academy of Human Resources Foundation and Ithaca College. She is also a member of the Governing Body for the New York HR Leadership Summit and the Cornell School of Industrial and Labor Relations Advisory Council.
Prior to joining Cornell in 1996, Mary held various roles in the human resource function at Harvard University. She is a fellow of the National Academy of Human Resources and is certified by the Society for Human Resource Management as a senior professional in human resources. She has a bachelor's degree from the State University of New York at Oneonta in political science and a Master of Science degree in organizational behavior from Cornell University.