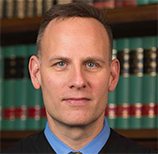 House Fellow
Tompkins County Court Judge
Tompkins County
Judge Scott Miller is a New York State judge and the senior presiding judge of the Tompkins County Court. He also serves as Acting County Court Judge of the Tompkins County Court. Judge Miller presides over trial level criminal and civil matters. He was appointed to the bench in 2013 by Ithaca Mayor Svante Myrick.
Previously he was a litigator with Holmberg, Galbraith, Van Houten & Miller, where he specialized in felony criminal defense. He has tried numerous cases including several local high profile murder cases. He was an adjunct law professor at Cornell Law School from 2003-2011.
Judge Miller received his B.A. from Cornell in 1990 and J.D. from Cornell Law School in 1995. He is a past president of the Tompkins County Bar Association.
A recent decision of Judge Miller involving police citizen encounters was profiled in the New York Daily News.