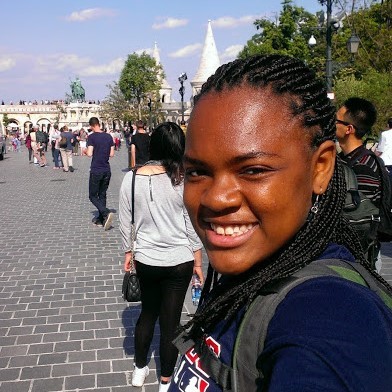 Graduate Resident Fellow
Chemical and Biomolecular Engineering
Ferra Pinnock is a third year Ph.D. student in Chemical and Biomolecular Engineering. Her research focuses on mimicking cellular processes, such as glycosylation, on-chip.  She's particularly interested in developing a platform that simplifies the synthesis of glycosylated compounds for broader use in medicine and fundamental research.
Ferra was raised in the heart of Atlanta, GA and is a dirty bird to the core (Go Falcons!).  She migrated north to complete a B.Sc in Chemical Engineering at Yale University. There, she dedicated a lot of time to undergraduate research and was  heavily involved in mentorship and outreach as a member of the National Society of Black Engineers (NSBE). These experiences nurtured her passion for research, teaching, and promoting equity in STEM education, and ultimately inspired her to pursue an advanced degree and potentially an academic career.
As a Cornellian, Ferra continues to invest a lot of her spare time into peer mentoring programs and initiatives related to diversity and inclusion. She is a graduate mentor for the CU EMpower program, an E-board officer for the CBE Graduate Women's Group, and a founding member of  the CBE Diversity and Inclusion Program.
Outside of academics, Ferra is an avid consumer of all things mafia. When she's not off gallivanting in fictional worlds of organized crime, you can find her listening to Soca and dancehall music, indulging in re-runs of her favorite podcasts, or struggling to be a "good" vegan. Ferra looks forward to sharing these interests with the Flora Rose community in her first year as a GRF.