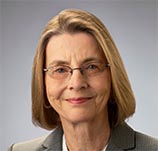 House Fellow
Trustee Emerita, Class of 1964
Carolyn Chauncey Neuman (BS HE '64, MSW '84 Adelphi University) is a family therapist and counselor with a private practice in Ithaca, New York. She previously practiced in Rye, New York, where she was also a faculty member of the Center for Family Learning in Rye Brook, New York. The CFL is a post-graduate center for teaching, research, and family systems therapy. Her clinical research and teaching focuses on treatment of anxiety and depression in adolescents and adults, and on family systems theory.
Prior to establishing her private practice, from 1987 to 1997, Ms. Neuman was associate director and family therapist at Samaritan Counseling Center in Rye. The Center is part of a large network of ecumenical counseling centers serving some 400 cities in 33 states and Japan, which are affiliated with and accredited by the Samaritan Institute of Denver. Earlier in her career, she practiced family therapy at Sound Shore Counseling Center.
Ms. Neuman was elected to the Board of Trustees in 2001. She serves on the Academic Affairs and Campus Life, Alumni Affairs and Development (vice chair 2002 - ), and Trustee Community Communications Committees of the Board; she is also chair of the Alumni Affairs Steering Committee (2002 - ) and sits on the Trustee Task Force on Residential Communities. She served as a member of the Buildings and Properties committee from 2001--2003. Ms. Neuman was recently appointed as a trustee member on the Fraternity and Sorority Council in March 2004, served on the Committee on Alumni Trustee Nominations (CATN) for 2003, and was appointed as the trustee representative on CATN in June 2004. She was also appointed to the Cornell Alumni Student Mentoring Program committee in July 2003. She is currently serving on the Cornell University Library Advisory Council and the Human Ecology Advisory Council.
Prior to her election to the Board of Trustees, Ms. Neuman served two terms on the Cornell University Council, including a two-year term as chair and extensive service on the Administrative Board, Annual Meeting Planning Committee, and Membership Committees. She also is a past president of the Cornell Association of Class Officers (CACO) and has been active as a member of the Class of '64, having previously served as class president, co-chair of the 30th Reunion Tower Club, editor of the 25th Reunion Yearbook, and co-chair of the 20th Reunion.
Ms. Neuman began her first term on the Board of Directors of Family and Children's Service of Ithaca in March 2003. Other civic involvements have included: advisor, consultant and clinical supervisor for the Rye Youth Council; member of the American Association of Pastoral Counselors; board member and vice president, YWCA of Central Westchester; diplomate of the Academy of Clinical Social Work; the National Association of Social Workers; advisor for the Rye High School Diversity Workshops; and facilitator/advisor for the Rye County Day School Parent Connection Program.
Carolyn Neuman's husband, John L. Neuman (BEE '63 and MBA '67 University of Pennsylvania), is the president and chief executive officer of 1492 Consulting Group, a strategic growth consulting firm. He serves on the Steering Committee of the Cornell Corporation Outreach Group and the Board of the Cornell Growing Association. Among his notable Cornell involvements are the Advisory Board of the Entrepreneurship and Personal Enterprise Program, Board of the Cornell Club, and the Cornell University Council. The couple has two children: Scott J. Neuman BS AGR '93, MBA '99 and Nancy BS AGR '90. Other members of Carolyn Neuman's family who attended Cornell are her father, Richard A. Chauncey BS AGR '41, daughter-in-law, Amy Karlen Neuman BS ARCH '93, and brother-in-law Robert F. Neuman BS ARCH '59. The Neumans currently live in Ithaca on the western shore of Cayuga Lake.