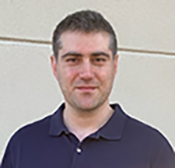 Graduate Resident Fellow
Civil Engineering
Bassel Khoury is a graduate student in the Department of Civil and Environmental Engineering. His research is in molecular simulation of structural materials. This project is part of an international consortium with researchers at the University of Virginia, the National Institute for Materials Science in Japan, and the École polytechnique fédérale de Lausanne (EPFL). He is also interested in the application of probability to engineering problems. 
Outside of engineering, Bassel is interested in history and was a TA for a course at Cornell on the history of the Middle East. He is fluent in both Arabic and French and is learning German. 
Born in Aleppo, Bassel moved to the US for his undergraduate studies at Harvard University. In Ithaca, Bassel enjoys playing chess and dancing tango. He also enjoys biking around town, but only when the weather is nice!