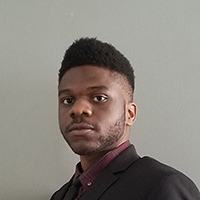 Graduate Resident Fellow
Chemical Biomolecular Engineering
Barituziga Banuna is a 2nd year Ph.D. Student in the Department of Chemical and Biomolecular Engineering at Cornell University. His work is on the design and development of an optical bioelectronic biochemical sensor platform for the study of plant membrane proteins. He is interested in the intersect between biological, electrical, and material approaches towards solving environmental and energy problems.
Barituziga, or just Bari as he goes by, was born in Nigeria and moved to the U.S. with his family when he was three. He holds a bachelor's degree in Chemical Engineering from the University at Buffalo. Barituziga has a passion for educational outreach and has worked with the CBE WOMEN organization in hosting the annual WOMEN event outreach program for local high school girls interested in STEM.
In his free time, Barituziga enjoys spending time in the outdoors – hiking, traveling, biking, running, and recently planting. He has always been fascinated by different cultures and traditions and is an avid foodie. Barituziga loves reading and particularly likes to read fantasy and novels/graphic novels from China, Japan and Korea. From a young age, Barituziga has been involved in several musical groups which has fostered in him an interest in composing his own music and trying his hands at learning to play new instruments. He is looking forward to joining the Flora Rose House team and becoming a part of the community.