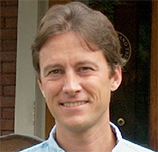 House Fellow
Finger Lakes Land Trust
Andy is the Executive Director of the Finger Lakes Land Trust - an Ithaca-based non-profit conservation organization that works cooperatively with landowners and local communities to permanently protect undeveloped lands that are important to the character of the Finger Lakes Region. 
The Land Trust was established in 1989 as a part of Andy's MPS program through Cornell's Department of Natural Resources. Since then, the group has secured more than 14,000 acres of the region's remaining pristine lakeshore, rugged gorges, majestic forest, and scenic farmland. 
Andy has worked in the conservation field for more than 20 years, including service as Associate Director for The Nature Conservancy's Central & Western NY Chapter and as Vice president for Programs for the Land Trust Alliance in Washington, DC. He has also served on a number of planning, conservation, and grant-making boards in the public sector. 
In addition to his MPS degree in Natural Resources, Andy also holds a BS in Industrial & Labor Relations from Cornell. Andy lives in Ithaca with his wife Rocio and daughter Bella. He enjoys just about every type of outdoor recreation and is delighted to be a part of the Flora Rose House.